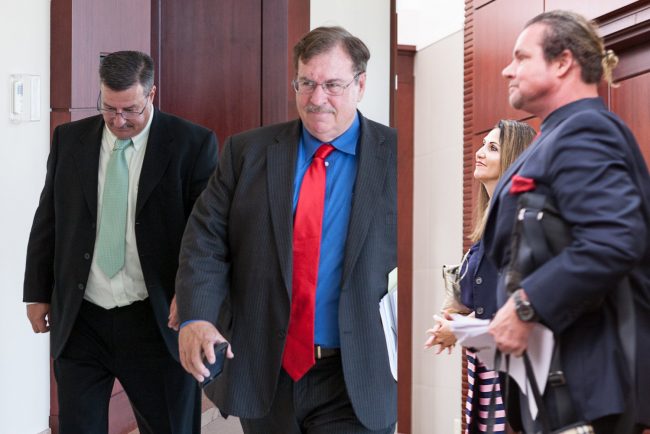 A FlaglerLive Investigation
---
Palm Coast Mayor Milissa Holland and her husband David O'Brien, the former chief deputy at the Flagler County Sheriff's Office, faced off in a court hearing this morning for the first time in their divorce proceedings.
Holland's attorney alleged O'Brien raped her repeatedly in 2013.
"I have multiple writings and emails from the husband admitting raping his wife," Doug Kneller, Holland's attorney said. He acknowledged O'Brien was never charged, but said "we have evidence from his mouth that he raped her on multiple occasions and how that came about."
Kneller was responding to a motion by O'Brien's attorney, Stephen Alexander, to strike from Kneller's pleadings any mention of the alleged rape. "He was not convicted of anything, so it can't be used as a prior conviction because he wasn't even officially charged by the State Attorney," Alexander told Circuit Judge R. Lee Smith. "More than four years has gone by, it's not relevant, it can't be used as far as a civil law suit and simply to throw it in here is simply to prejudice the court by saying it over and over repeatedly."
O'Brien and Holland were married in the spring of 2012. They separated in the winter of 2013. O'Brien filed for divorce this past April. The rape allegation is at the heart of Holland's case, as her attorney is referring to the alleged rapes as "exceptional circumstances" that compel O'Brien to provide alimony. O'Brien had been supporting Holland financially until last spring. He stopped doing so immediately after filing for divorce.
Alexander during this morning's hearing said that under Florida law "there is no such thing as a rape. It's a sexual battery. Throughout this [pleading] he never says the words sexual battery. It says rape, rape, rape." He said leaving the allegations would not only prejudice the court, "but everyone that comes in here, including the press, and I don't think it's relevant."
"The reason I used the word rape," Kneller responded to the judge, "is because in an email he sent on Dec. 18, 2014, to [Flagler County Sheriff's Cmdr.] Steve Cole, he stated he raped his wife, I'm simply using his language." Alexander did not respond to Kneller's reference to the email.
Holland initially made the rape allegation in March 2013, in a complaint filed with the Flagler County Sheriff's Office. The allegation was twice investigated by the State Attorney's Office, a case file that grew to over 70 pages, that the State Attorney certified as authentic, and that it should be available by public record request, including the documents Kneller referred to in court this morning.
Holland never followed through on pursuing charges. But the divorce case revives an allegation at the center of an ugly twist in what was arguably one of the most prominent and public weddings in Flagler County in the last few years, between two public figures whose profile only increased after their wedding. They have been apart for the past four years, but until the divorce filing, not entirely disconnected.
The following account is based on the Sheriff's report, the State Attorney's investigation reports and documents, court filings, interviews with Holland, the current and previous sheriff, and State Attorney's officials.
A Year of Promise
For Holland and O'Brien, 2012 looked like the best of years. In January, they announced an April wedding date. In February, O'Brien, by then a 29-year veteran of the Flagler County Sheriff's Office, was named chief deputy, the Number 2 position in then-Sheriff Don Fleming's administration. In May, shortly after the couple returned from a honeymoon in Paris, Holland, who had been a charismatic county commissioner for six years, declared her run for the state House. Her confidence was boundless. O'Brien's future at the Sheriff's Office looked equally bright.
Less than a year later, it fell apart.
Holland lost her House race and was jobless. (She was elected mayor of Palm Coast last November.) A new sheriff passed over O'Brien for undersheriff, appointing Rick Staly instead. Weeks later, after a withering, eight-page performance review by Staly (who is now sheriff), O'Brien was given a choice: resign or be fired. O'Brien resigned. He did so on March 8, 2013.
Five days later, Holland formally accused O'Brien, her husband of less than a year, of raping her repeatedly over several nights while she was unconscious, knocked out each night from a mixture of pain killers and alcohol.
The alleged rapes took place roughly between Feb. 7 and Feb. 11 of 2013. (On Feb. 5, a month before he lost his job, O'Brien had been tasked by the Sheriff's Office with chairing a committee on domestic violence.) Holland would subsequently tell investigators that she began piecing together the events of those nights through "flashbacks" before she confronted O'Brien. (The pain killers were for a knee injury.)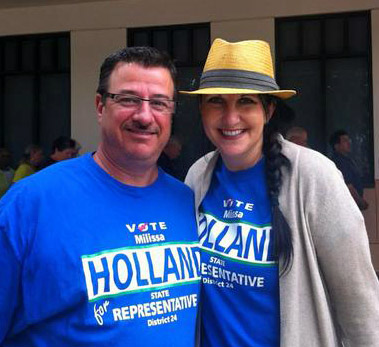 "It was around day three when I started remembering things," Holland said in an interview with FlaglerLive late last month, "very like, clear, vivid things that came in my memory, and that's when I started putting things together and confronted him outside by our pool, and asked him very directly. It's not something you expect your husband to ever do. It would have been the last thing I would have expected for him to do."
Until then the couple lived what Holland described as a normal relationship, "nothing out of the ordinary that would cause me concern or pause, no red flags. This really did come out of nowhere."
They were sitting by the pool at their Grand Haven home, Holland recalls. "We were actually getting ready to grill outside," she says, "and I literally looked at him and I said: 'Did you have sex with me when I was unconscious?' And he paused, he looked at me, and he said, 'Yeah, I did.' And I said, 'You raped me.' "
Holland says O'Brien's jaw dropped. She questioned him, she says, bringing up the fact that he'd been in law enforcement for three decades. "You were in the criminal justice system," she says she told him, "you dealt with victims, you know this is wrong, you know how this changes people's lives, you've counseled people, what would you counsel a victim?"
Holland says she asked O'Brien, "What would you say to somebody that came into your office that went through something like this? What would you say to them? And he would say, 'I would say, move forward, proceed.' " By which in her view he meant proceed with charges.
Holland was clearly conflicted. A week after confronting O'Brien, she gave a statement to the Sheriff's Office detailing what she recalled as multiple nights of sexual assault while she was incapacitated. She would initially cooperate with two separate investigations into the events of those nights, before deciding not to proceed with charges against her husband. Instead, she says she made a deal with O'Brien. She would not pursue charges. But he would support her financially, including maintaining health insurance for Holland's daughter from an earlier marriage, who suffers from a grave illness. "David told me, he bought his freedom, essentially, because I didn't aggressively pursue getting the charges," Holland says.
In short order, O'Brien moved out of the Grand Haven home, and went to live with his parents nearby. The arrangement Holland outlines, which was never written or witnessed, appeared to hold for four years, until this past April, when O'Brien filed for divorce and, in Holland's view, reneged on the agreement.
The Divorce Filing
Holland's allegation of rape against her husband was fully revealed on May 5 in court papers she filed in response to O'Brien's divorce petition in Flagler County Circuit Court. O'Brien had filed for divorce on April 11. His petition focuses on financial matters, requesting that Holland assume a $30,000 car loan and pay her share of a tax bill, while other assets would be split. (O'Brien, through his attorney, Steve Alexander, suggested to Holland's attorney that the petition be filed in St. Johns County "since your client is the Mayor of Palm Coast." Holland declined the offer, preferring a filing in Flagler.)
In her answer, Holland agreed to the dissolution of the marriage, then made two claims: First, that O'Brien in 2013 "raped his wife three (3) times subjecting her to multiple hours of torment and living Hell. The rapes including multiple bodily penetrations, choking, dragging and other horrific acts. The Husband's rape of the Wife continued for three (3) consecutive nights while the Wife was semi-unconscious to completely unconscious. The Husband has admitted in multiple writings to the Wife of the three (3) nights of rape and living Hell. The inhumane acts by the Husband has resulted in the Wife suffering permanent physical and mental trauma."
Holland's second claim is that she suspects O'Brien "intentionally delayed filing the Dissolution of Marriage until the Statute of Limitations passed for the Wife's Civil Action against the Husband"—in other words, until Holland could no longer legally pursue a rape charge against O'Brien.
Holland's attorney, Doug Kneller, explained the response in an interview: "It's not about leverage at all," Kneller says, but about an alleged act that "has affected her emotional being for the rest of her life, and based on that she's entitled to lifetime alimony. This is simply about equity. This has nothing to do with leverage."
---
A claim that O'Brien delayed filing for divorce until just after the statute of limitations passed.
---
Kneller also contradicted the notion of a financial deal: "There's been no financial deal made," he said. "He sued her for divorce, and we counter-petitioned what is her right to seek, and it's not about a financial deal, it's about equity and what's fair in the marriage contract." He added: "When you damage your partner and the damages will affect you monetarily for life, there's no other remedy to make her whole other than a monetary remedy, if there was a remedy where we could push a button and make that never have happened, we would rather have that remedy." As for the arrangement of the last four years, Kneller says, "They have been separated since the act occurred, and he was financially supporting her since the act occurred, so she had obtained the defacto remedy since the act occurred."
In June, Holland agreed to a lengthy, on-the-record interview about her marriage to O'Brien and her allegations against him. Starting June 20 through July 6, O'Brien did not respond to emails from FlaglerLive, which stated specifically that his response was sought to Holland's allegations of rape, nor to phone calls placed to his place of employment, Hammock Beach Resort, where he was the head of security until July 5 for $48,000 a year. (In a phone call on July 6, Prem Devadas, president of Salamander Hotels and Resorts, told FlaglerLive that O'Brien "is no longer at Hammock Beach." Devadas emphasized that O'Brien had never been a Hammock Beach employee, but was a contractor through another firm, United American Security. The firm operates in 14 states. O'Brien's responsibilities also included overseeing employees at Yacht Harbor and the Conservatory).
O'Brien also did not respond to a message left on his cell phone, a number he included and swore to in his court filings. Nor did he respond to an interview request after a former colleague at the Sheriff's Office said he'd reach out through a mutual friend. Nor did he respond following calls and emails to his attorney, Alexander, starting on June 30, emails on which he was cc'd. Alexander was on vacation through July 10, according to his office. "We don't bug him when he's on vacation," Cari Barksdale, his paralegal, said.
At Monday's hearing in the divorce case, Alexander and O'Brien were asked before and after the hearing whether they'd be willing to speak. "I doubt it," Alexander said before the hearing. "No comment," he said as he was walking out of the courtroom. "Mr. O'Brien is not going to comment, either."
O'Brien himself had just one word for a reporter: "No."
But O'Brien's on-the-record position on the matter was not a complete mystery.
In an October 2013 deposition regarding financial issues in his divorce from Lynn O'Brien, his previous wife, O'Brien was asked point blank if Holland had "made allegations against you of violence." O'Brien, according to a deposition transcript obtained from the court filings in the case, said yes. But when asked to specify the allegations, he pleaded his Fifth Amendment right against self-incrimination. He was asked if there had been a threat of criminal prosecution. His attorney told him he could answer. O'Brien and his attorney (Alexander in that case, too) stepped out of the room, and when they returned, O'Brien pleaded the Fifth.
The Deal
The rapid disintegration of the Holland-O'Brien marriage and Holland's disappearance from public view—she "went dark," in her friend Abby Romaine's words—perplexed those who knew her in political and social circles, though her disappearance was attributed to two other setbacks: her loss in a close race to Travis Hutson in the legislative election, which devastated her, and her teenage daughter Tori's serious health problems, which had started to consume Holland not long before the marriage fell apart.
Tori's illness–auto-immune hepatitis, which led to cirrhosis of the liver and repeatedly landed her in the hospital, at times in critical condition—would be at the center of the deal Holland says she made with O'Brien, a deal she does not regret making. It was never a written agreement, but to Holland, it was an agreement.
Holland was divorced from Tori's biological father when Tori was not yet four years old, and though he was responsible for child support at the time, Holland says she ultimately assumed responsibility for Tori's health care. (Holland has three children from another marriage.) A few years ago Tori ceased contact with her father. O'Brien's support, however, became crucial as Tori's health deteriorated.
"I'm never going to apologize for helping my child get in front of the best doctors in the country," Holland says. "I will never apologize for that. If anybody feels that they would have handled it differently, I would love for them to step in my shoes for a moment and make that determination. This is a complex situation. It's not just black and white. There are many layers and levels to this. The fact of the matter is, I really felt at the time I had no other choice. My child benefits greatly from the fact that she had an opportunity to become a patient at Mayo, which she still is today, and I wouldn't do it differently. She's very sick, a very sick young lady, still is today."
Holland says she expected the financial arrangement with O'Brien to continue even after he told her earlier this year in their first face-to-face meeting since the break-up, at a picnic bench in Flagler Beach, that he wanted a divorce. She recalls, in her words, that O'Brien was seeking to give her "closure" and to stop being "a poison" in her life. In her account of the meeting, she says they agreed to seek a divorce and financial arrangement without lawyers.
Holland had asked in that meeting that $5,700 from O'Brien's $6,281-a-month retirement check go into her account until she'd completed her bachelor's degree and had time to find a job, and that he continue to make the payments on her car loan and keep her and Tori on his insurance through work. Holland followed up the picnic-bench meeting by sending a note to O'Brien on March 29. "If you want we can file the papers locally to divorce and write a separate agreement," she wrote. "I, like you, feel we can communicate as things come up and we need to work with them." She went on: "This is my thought process David. You committed a horrible crime. Yes the lying to me hurt but the act you committed has changed me in ways you will never know or see so you are somewhat removed from it. As we spoke about, if I pursued charges, you would have lost your retirement for the rest of your life. You also wouldn't have a job in a security field and would have had a tough time ever finding future employment moving forward and the community would know exactly what you did. I say all these things because I don't believe this is the time you need to be focusing on what is best for you but rather feel unbelievably grateful that you married someone that showed you compassion, kindness and support through the darkest moments of her life and gave you the freedom to walk amongst everyone today with your integrity intact, as I continue to feel shame every day."
She told him the arrangement was "more than fair considering the gravity of the circumstances."
O'Brien Changes Course
But O'Brien, Holland says, then stopped communicating for a while, then told her he hadn't made up his mind how to proceed. He then took himself off their joint phone account, and Holland got the email from Alexander, suggesting a divorce filing in St. Johns County.
"I talked to Steve Alexander and I said, what is David looking for?" Holland recalls. "And he said we haven't gotten that far. But he was just trying to be nice, and I said to Steve, no, he does not want people to know what he did to me, in Flagler County, that's why he's doing this. So I'm not going to feel bad about this. And if he wants to do this, it's going to come out. There's no way it's not going to come out."
Soon after that conversation, O'Brien filed for divorce in Flagler and closed Holland's access to what had been their joint account. "He closed down the account without my knowledge," Holland says, "took every single dime and left me with nothing, no means of paying any bills, nothing." She hired her own attorney, though she says she was unable to afford a $10,000 retainer. The attorney agreed to a $1 fee, pending the outcome of the case. Holland says she was close to penniless. As mayor of Palm Coast, Holland makes around $1,000 a month. Her son, who is in the Air Force, has been covering her rent ($1,688, according to O'Brien's testimony in the deposition unrelated to this case). She had no other income until last month when she began working for Coastal Cloud, the cloud-based, fast-growing company based in the Hammock but with clients across the country.
According to court papers Holland is asking for $5,000 a month temporary alimony and permanent alimony of an amount to be determined. She makes a direct link between the "damages that has affected" her since the alleged assaults and the "exceptional circumstances" that compel alimony payments. The filing describes O'Brien's closing of their joint bank account as "raping" her dignity. "Therefore," the alimony claim continues, "in addition to the horrific raping of the Wife for three (3) consecutive nights, he has now left her without funds to maintain her ongoing bills to have even a modicum of dignity during the temporary aspect of this case."
O'Brien in his court filings states the marriage is less than five years old, that he and Holland have lived apart for the past four years, and therefore she is "not entitled to alimony." He objected to numerous discovery requests on the same grounds. On May 23, O'Brien answered the rape allegation in a motion, seeking to strike all references to it as it fell outside the statute of limitations. "Since allegation of a rape is highly prejudicial and the Wife and her attorney concede… the allegation is outside the Statute of Limitations," the motion reads, "the allegations as alleged [in the petition] should be stricken by the Court."
O'Brien's motion also pleads that the rape allegation be stricken from the record because "The Husband was never arrested or charged by Information nor convicted of any crime concerning the Wife's alleged rape." ("Information" is a charging document.) O'Brien's assertion is factual, but the record shows that the State Attorney's Office twice asked Holland if she wanted to pursue charges, in 2013 and again in 2015. Twice she declined. No charges were filed. But documents obtained from the Sheriff's Office and the State Attorney trace an extensive investigation, and include statements from O'Brien that at the very least reflect remorse.
In a "controlled" phone conversation between Holland and O'Brien—State Attorney investigators were recording it from Holland's end, without O'Brien's knowledge—he said "everything that I have done is horrible," and repeatedly blamed himself for "how I could hurt you." He admits to Holland that "I destroyed your life, I lied to you in so many ways," and never contradicts her or denies it when she repeatedly tells him he raped her. During the call, he never uses the word himself, and again and again tries to stave off speaking about the matter, telling Holland they should discuss it together in therapy, not over the phone.
The Investigatory Trail
The document trail begins on March 13, 2013, days after O'Brien's forced resignation, and four months after Holland's electoral loss.
By March 13 Holland says she had thrown O'Brien out and demanded that he turn himself in to the Sheriff's Office. According to a sheriff's report from that day, O'Brien at 2 a.m. that morning called then-Lt. Jeff Stuart from the parking lot of SunTrust Bank on Palm Coast Parkway and told him he had to meet with him. Stuart and O'Brien had been close. He met O'Brien who, according to Stuart's report, said Holland "had accused him [O'Brien] of sexually assaulting her about one month ago and he was unsure of what her intentions were. I explained to him that I would have to make contact with her to ask her about this incident and he advised that he understood that."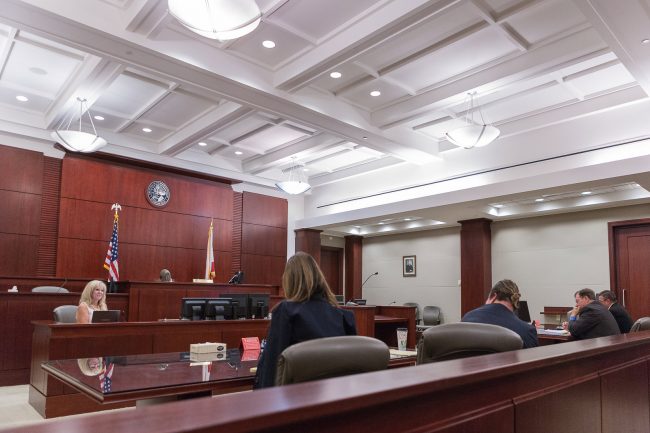 Stuart then went to what had been the couple's home in Grand Haven, where Holland had remained, along with her daughter, and took a written statement from Holland, who wrote that the alleged assaults "about a month ago" took place "four days in a row when I was passed out." Holland's statement went on: "I asked him a few days later and he admitted to all of it. He said he didn't know why he did it, and felt horrible about it. I have flashbacks and cannot sleep and have not had intercourse with him since."
Holland told Stuart she was "unsure of what action she wishes to take concerning these incidents." No physical evidence was collected due to the delayed report, but Holland said she did not want O'Brien returning to the house to collect belongings. She gave the lieutenant a bag of O'Brien's clothes, which Stuart took back to the SunTrust parking lot, where O'Brien had remained. O'Brien declined to make a statement, according to Stuart's report. (O'Brien places the date of separation in May 2013, according to his deposition in his previous divorce case. He has been living with his parents in Palm Coast's C Section since his separation from Holland.)
The Sheriff's Office soon turned over the investigation to the State Attorney's Office. Sheriff Staly confirmed in a brief interview last month that because O'Brien had been an employee for so many years, and had only recently left the agency, it was more appropriate for the State Attorney to take over.
Two days after reporting the incident to the Sheriff's Office, Holland was at the State Attorney's office, providing a sworn statement to an investigator, with a victim's advocate in the room. She described taking painkillers for an inflammation of the knee in early February and drinking a half dozen glasses of wine with O'Brien each evening, then detailed what recollections she started having of the nights of the alleged assaults. (Holland was prescribed Tramadol, and began taking the pills on Feb. 7, for five nights.)
That initial report to the State Attorney refers to "five successive nights of alleged sexual activity," following which Holland "began to become aware of the activity, and remembered being positioned and exploited sexually by O'Brien." She confronted O'Brien about her recollection "about a week after the final night of the occurrences," following which the couple physically separated in the house, for about three weeks, before she demanded that he "turn himself in or do something about it." (In her interview with FlaglerLive, Holland says that after she confronted O'Brien she locked her door at night while O'Brien stayed on a couch elsewhere. Her daughter was in her own room. "Her door was kept shut. Everything was very much on eggshells, and everybody felt it," Holland says.)
O'Brien's Last Days at the Sheriff's Office
Holland, the investigation report notes, "stated that, other than a series of text messages (which she provided to [Investigator Robert] O'Connor, she was not aware of any other telephone messages, emails or memorializations of conversations between O'Brien and herself or anyone else which would indicate O'Brien's involvement in the alleged sexual activity against her." The only people she'd spoken to about the allegation at that point, according to the report, were at the State Attorney's Office, Jeff Stuart, and Jim Manfre, who was sheriff at the time.
Manfre, an attorney now in private practice, remembers Stuart speaking to him about the allegation, but not much else. "I can't say I didn't speak with her," he says, but he doesn't remember the conversation with Holland, if that conversation took place. "I remember she didn't want to go forward" with charges, he says.
Manfre is more certain about his interactions with O'Brien at the time, describing him as "unfocused" and not the O'Brien he had known when Manfre was in his first term as sheriff between 2001 and 2004. Back then, he says, O'Brien was his "best employee." In the early months of Manfre's second administration, O'Brien was "clearly having some issues," failing on the job. The last straw was when O'Brien did not show up at a "high-liability search warrant," where guns were believed to be in the house being searched. O'Brien had gone home, saying he was tired.
The incident, on March 4, 2013, four days before his forced resignation, was documented in a performance review written by Staly and refers to a warrant search involving the SWAT team, which was under O'Brien's command.
That was about the same time when the alleged issues with Holland were unfolding—when Holland, in her recollection, was agonizing over how to move on from what had happened in February, when O'Brien was still in the house and the couple was having tense interactions.
Staly's written assessment of O'Brien's job performance was withering. "The quality of his work is substandard and unacceptable and does not meet expectations of individuals at the executive staff level," it read. "I have directly supervised Cmdr. O'Brien for almost sixty days, and it has become obvious that he is either incapable or unwilling to perform at the executive level.
"We Just Need to Take It One Day at a Time"
The text messages Holland provided the State Attorney's investigator are not dated, other than a March 15 date on one email from Holland. Based on the content, they appear to have been written soon after the report to the Sheriff's Office on March 13, and before the first meeting with investigators at the State Attorney's Office on March 15. The texts are not screen shots but were cut and pasted, without time stamps. Holland sounds more sympathetic to O'Brien than she would be later on, and even suggests she was not looking to make a public issue of it: "you are not a bad person David I just don't understand," she writes. "Where r u?" (All texts are reproduced here in their original spelling.)
He replies: "I'm walking around and I'm a bad person I destroyed the person who beloved in me and that loved me and now I have nothing. I love you so much!!!!"
"We just need to take it one day at a time right now. I am just exhausted," Holland writes. "I am not going to say anything to anyone about any of this."
"You don't have to its already out," he writes back. Holland seemed unaware that the Stuart report would become part of the record.
"He told me you filed a complaint," O'Brien writes.
"I had to David," Holland writes back. "I told you this was very serious. I am not sleeping and I have a ton of anxiety and need some help. We both need some help to get through this."
The transcription at times makes the authorship of each text unclear. Some have been redacted by the State Attorney's Office. The redactions are usually identifying information about either O'Brien's or Holland's precise whereabouts, or medically revealing information.
"I want to work through this with you," a text, apparently from O'Brien, reads.
"Listen I am not going anywhere," Holland writes. "I know you are trying to understand and I am as well. You need to get some rest though David to think clearly. You don't need to do anything right this second."
O'Brien writes: "I do need to do something right now I'm tired of hurting you all the time. I want us to be happy and the only way to do that is to figure out why I do the things I do."
In her FlaglerLive interview, Holland says O'Brien's hope was that the couple could work out the issue, go to therapy—which they both did, initially together in St. Augustine–and get back together. In the early days and weeks of the separation, Holland says, there was no deal between them. "He knew it was in the State Attorney's hands, he knew that, he knew that I was still going back and forth on what I wanted to do," Holland says, "he would text me, say 'I'm going to provide for you, I'm going to take care of you, you're never going to have to worry about a thing, I'm so sorry I did this to you, I know you're damaged, I know you're struggling, I know those things.' "
In her interviews with investigators, Holland at one point claimed Stuart had told her that O'Brien had admitted to him that he'd "taken advantage" of Holland. Stuart, when he was interviewed by a State Attorney investigator, denies there was any such admission.
On March 18, just five days after the initial report of the allegation to the Sheriff's Office, Holland called the investigator at the State Attorney's Office and said she "did not wish to pursue prosecution" against O'Brien. The investigator obtained a signed "Declination of Prosecution" from Holland on March 22, and the investigation was concluded. By signing the document, Holland forfeited the right to have the investigation reopened.
Pleading the Fifth
O'Brien was well aware of Holland's decision. On October 15, 2013, in his deposition regarding his divorce from his previous wife, he was asked specifically about an agreement Holland had made not to prosecute. "My understanding is that there was an agreement between the State Attorney's Office and my wife not to proceed with any criminal charges," he said. Asked who had told him that, he replied: "My wife did."
"And you do not believe that there will be a proceeding with respect to you based on that? You don't believe that there will be criminal charges pending against you?" the deposing attorney asked him.
"I mean, I don't know. I'm assuming not," O'Brien replied.
"You're still sticking to the Fifth Amendment, right, even though I'm going to see the police report?" the attorney asked him.
"I'm staying with the Fifth," O'Brien replied. He later noted: "My wife and I are still working things out…. Trying to, you know, reconcile things, get back together."
Indeed, Holland and O'Brien were communicating, exchanging emails regularly—about insurance, financial matters, doctors, therapy. Holland agrees he was trying to work things out. "He did. He indicated that," Holland says. "I think he was authentic."
Then two documents made their way to the State Attorney's Office, one in December 2014, and one in March 2015. Both documents referred to the alleged assaults. The documents prompted the office to re-open the investigation.
Holland says O'Brien shared the documents with her to demonstrate his commitment to working on his rehabilitation.
New Documents
The first document is an email he purportedly sent Steve Cole, a commander at the Sheriff's Office, on Dec. 18, 2014. The email was prompted by an encounter between Cole and Holland at Palm Coast's Town Center, where Holland was taking part in a 5K run. She ran into Cole and his wife, and Cole was, in her telling, cold and disrespectful. She told O'Brien. O'Brien, Holland says, wrote Cole, asking him to apologize: "You as a law enforcement person know what she has been through and how she has been a victim of a horrible thing that I imposed on her and all the pain and suffering that she has gone through and continues to go through each and every day," O'Brien wrote, according to the email included in the State Attorney's report. "She did not ask for any of this and this is something that I inflicted on her and should not have to be treated or disrespected by you or anyone in this way."
The email's third paragraph takes a different turn. It was wording from that paragraph Holland's attorney referred to at the hearing today. "I take full responsibility for raping my wife and all my actions and have nobody to blame but myself," reads the text of the email, allegedly by O'Brien. "My wife has been nothing but supportive of everything that I have done and continues to be supportive of me and everything that I am going through now."
Cole immediately forwarded the email to the State Attorney's Office, though he prefaced the forwarded document by noting that it "appears to be David O'Brien (I am not sure it is actually from him)." Cole said he did not intend to respond unless directed by the State Attorney to do so. In an effort to determine the authorship of the email by establishing whose password had been used, the State Attorney subpoenaed Yahoo's records. Yahoo confirmed that the account had been created by O'Brien, but the company's response to the State Attorney, while heavily redacted by the State Attorney's Office, does not indicate a log-in to the account on the day of the email. Asked in writing if it investigated further the authenticity of the email, the State Attorney's Office responded: "As of right now there are no documents responsive to this request. "
The second document, also included in the State Attorney's investigation, purports to be a five-page autobiography O'Brien prepared for a therapy program. According to Holland, O'Brien forwarded it to her in March 2015. The document is presented as a timeline of O'Brien's sexual history, before his marriage to Holland, and concludes, under the 2013 heading, with a description of the nights of the alleged assaults. Holland forwarded the document to the State Attorney's office.
Controlled Call
The State Attorney's Office, Holland said, "asked me to send any relevant or pertinent information" even after she signed the declination of prosecution, even though at the time O'Brien was "paying for everything," in her words. Prompting further investigating wasn't her idea, she said. "This wasn't something I was doing on my own, it always became an issue when they reached out to me," Holland said. So on March 16, 2015, the State Attorney's Office held the 40-minute controlled call between Holland and O'Brien, with Holland calling him from the State Attorney's Office in Daytona Beach, in the presence of two investigators. O'Brien may or may not have been aware that he was being recorded–he had ample experience with the tenor of controlled calls through his years in law enforcement—but he immediately protested the direction of the conversation, saying, "we shouldn't be talking on the phone. We should be in counseling for this."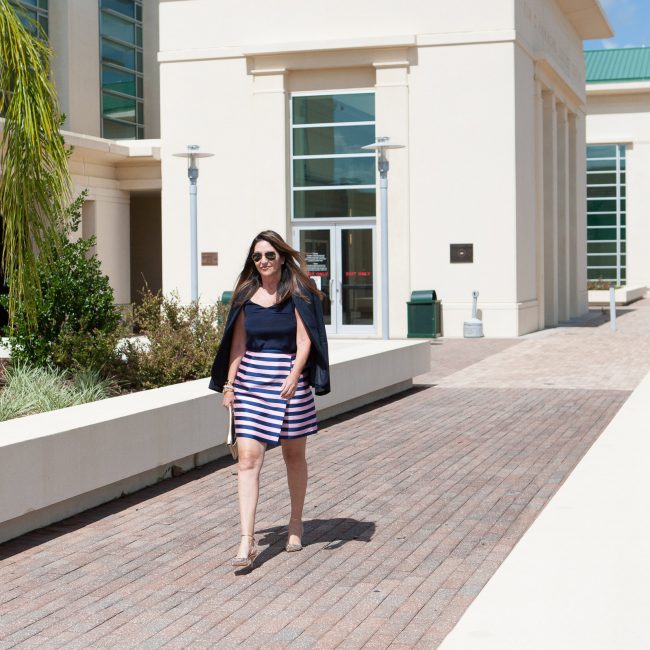 As the call continues, Holland repeatedly attempts to have O'Brien admit verbally to the alleged rapes. She uses the word rape. He does not. "Why can't you say what you have done?" she asks him. "I have," he replies.
Holland asks him if Cole responded to his email. "I don't talk to anyone," O'Brien replies. She asks him again, and again he replies: "I haven't heard from anybody." When she asks him what he feels, he replies: "That I treated you the way I treated you. I destroyed your life. I lied to you in so many ways."
Then there was this exchange:
Holland: "Do you think we can get past this?"
O'Brien: "I don't know."
Holland: "Do you think I can ever get past this?"
O'Brien: "No."
Holland: "How do you live with yourself knowing you raped [redacted]?"
O'Brien, after the two talk over each other: "I don't live with myself at all."
O'Brien is silent on two more occasions when she refers to the alleged rapes. Holland then mentions O'Brien's biographical timeline, acknowledging having received it from him but noting "so many holes," and asking him if he talks about it in his therapy sessions. Holland repeatedly returns the conversation to the rapes, telling him she needs his help filling in blanks and questioning whether he thinks "the rapes are equal to the lies."
"I didn't say that. Everything that I have done is horrible," O'Brien says.
She then returns to the biographical timeline, which he apparently had to read out loud to his therapy group. On the transcript of the call an entire line by O'Brien is redacted before Holland asks him, "How did that make you feel?" His answer: "Like crap." He later himself refers to the biographical timeline.
O'Brien was never interviewed by investigators, according to the State Attorney's documents. An investigator called Holland in June, then wrote her in July 2015, saying the investigation would be closed if she did not call back. She did call back, but only to decline again to pursue charges, she says.
Holland's Lives
Holland's life since her separation from O'Brien has been a mixture of withdrawal and open books.
In early 2013 she hosted a weekly radio show on WNZF tied to columns on FlaglerLive. Both stints were short-lived. She'd written four weekly columns that February, only one that ran in mid-March, then stopped abruptly, saying she was taking leave from both. In the summer of 2013 Holland joined the Southern Strategy Group as a lobbyist, but the job didn't last very long. "I couldn't 100 percent fully commit to Southern Strategy Group and 100 percent fully commit to take good care of my child and her health needs," Holland says. "It's always been a challenge to function under circumstances emotionally when I was going through continuing to remember things that happened throughout those three nights. I still have flashbacks today. And I went through a very lengthy period of therapy myself, to work through different ways of coping, meditative, breathing, those kind of things that got me through enough to say, I can do this, and do this, but it just became too much of a situation to where more time was spent at Mayo than it was having to travel around the state, working with clients."
Holland was out of the public eye until the spring of 2015, when she declared her run for Palm Coast mayor. During her run she did not speak of her relationship with O'Brien but, when asked, did not hide the fact that he was supporting her financially.
She was asked in the most recent interview if she had regrets about the way she'd handled the period going back to February 2013. "I don't know if I'll ever fully feel like I got justice for what happened to me," Holland said. "So I think there's always going to be a portion of me wondering what if I would have pursued these charges, what that would have meant for me to make me whole again. But I'm not sure if anybody becomes whole after experiencing this. But I've been told often times that people who do get justice have some sense of ability to move on knowing that what happened to them, someone is paying the price for. Literally I'll never get that moment."
Holland is fully aware that going public with the story, beyond the court filings, will trigger reactions difficult to predict. But she sees going public as a way of using the platform she has to empower other women who have gone through similar situations. "I am in the public eye," she says, describing her decision to end the secrecy. "Now I have a voice, and I have no problem talking about it to anybody at any time."
Is there an element of vengefulness in the decision to go public?
"I am the least vengeful person in this circumstance that you can imagine," Holland replied. "I don't send David hateful emails or texts or anything, you know, now. When we were going through our period of time I certainly did. But never vengeful, the tone were never, you do this, I'm going to do this. That's not within me. It's not about anything vengeful. This really is about—this is my story." She compared the step to previously deciding to address her mother's suicide for the first time in a column. "No, I think this is an empowerment moment for me," she said.
"This hasn't made me cold or hardened me. In fact it sometimes provided the total opposite. I think it's going to make me a better leader, to be honest with you," Holland says. "My friends that know me and know my whole story often say to me, we don't even understand how you now can take this and become the mayor of Palm Coast, and live a very open existence today. I think what everything has taught me to this point has been, I am who I am, I don't hide who I am, I've never shied away from it. You have to have a thick skin in this business, but I really don't care what people think about me. It's my story. I'm proud of myself. I love myself today, and I really love the woman that I've become throughout all of this."