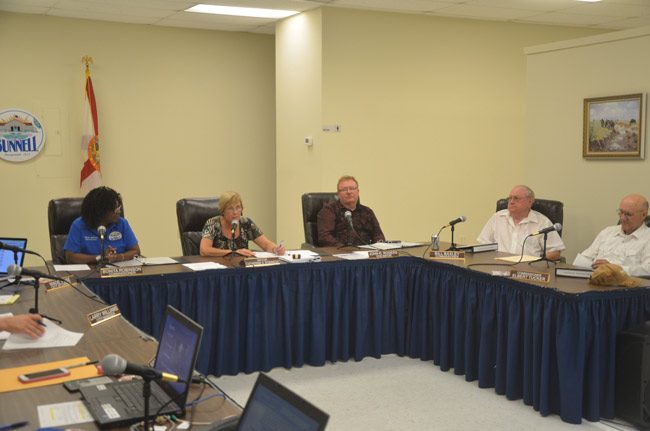 The county and the nation may be exhausted by the election that culminated with stunning results–nationally and locally–on Nov. 8. But the next local election is almost upon us: next week qualifying opens for the Bunnell City Commission election in March, when two seats are up: those of Commissioners John Rogers and Bonita Robinson.
That looming election was not mentioned at the commission's Monday evening meeting. But its silence spoke loudly–the same silence that greeted Commissioner Bill Baxley's proposal during the meeting to raise the commission members' salaries again, thus returning those salaries to pre-2014 levels. His proposal didn't get a second.
Two years ago when Bunnell was facing a big deficit, commissioners agreed to cut their $9,600-a-year salary by about $1,000, or 10 percent (a $1,200 cut for the mayor, who earns a bit more). It was more of a symbolic than substantial gesture, but it telegraphed to the public that the entirety of city government was doing its part.
The city's finances are in much better shape and reserves are building up again. That being the case, Baxley told his colleagues, "I just wanted to see if the board felt comfortable restoring it back. I feel very comfortable now that we have our budget in line."
It would have been a roughly $5,000 hit, but not to the bottom line, as Mayor Catherine Robinson noted. "The commission has to agree not to use travel and training budget funds, then that [$5,000] can be transferred, so there is a cost to this," Robinson said.
Baxley made the motion to do that. There was silence. Robinson twice asked for a second. There was silence. The motion died. Commissioners Elbert Tucker, John Rogers and Bonita Robinson hadn't flinched.
"That shows how many people were for it," Tucker said. "I just didn't think we need more money. I'm happy with what we get."
Tucker was instrumental six years ago in doubling the commission's salaries to Palm Coast-like levels, an idea he said had been brought forward by then-City Manager Armando Martinez. "My contention was if the millage rate wasn't raised then I would be OK, so supposedly the rate wasn't raised but unbeknownst to us at the time we were heading down a slide," Tucker said, putting the blame for the slide on Martinez. (Monday evening, City Manager Dan Davis did not weigh in on the brief discussion, likely not wanting to mirror the impropriety of Martinez, as a city manager, meddling in his own employers' pay.)
"I don't know why Mr. Baxley would do that, he's the one that brought it forward, he's the one who put it on the agenda," Tucker said, calling it poor timing. "You have two people running the next time around, I'm sure the citizens would think about that," making it "fodder" in the election. "It'd be great to have more money but all the citizens of Flagler County would like to have more money."
Rogers said the coming election had nothing to do with his decision. "I'm opposed to it this year. Maybe in the future when our finances are a little better, down the road," Rogers said. And when it is discussed again, he said, it should be discussed as part of the budget, not as a change to the budget after it's been approved.
"The mayor brought up a point about taking away some money from our budget as far as a couple of trips we had," he said. The election, he said, "had nothing to do with it, it wasn't the right time."
Rogers said he was running for a third term. Qualifying by petition begins Monday and ends in mid-December. Qualifying by payment ends on Jan. 9.
Bonita Robinson will also be running for re-election. "I didn't comment on it because I feel that it would be nice to have a raise but it's more important to make sure that our budget is straight. I'm just not seeing that we're ahead enough to get a raise," Robinson said in a brief interview Tuesday evening. "I'm not there for the money, because believe me it's not much. I'm there because I love the city of Bunnell and I'm trying to help the people here."
Tucker said generally public servants' salaries should be "high enough that it would avoid having somebody having to sell their vote." But a city the size of Bunnell can't afford that. "We have to depend on the integrity of the people on the city commission of the city of Bunnell."