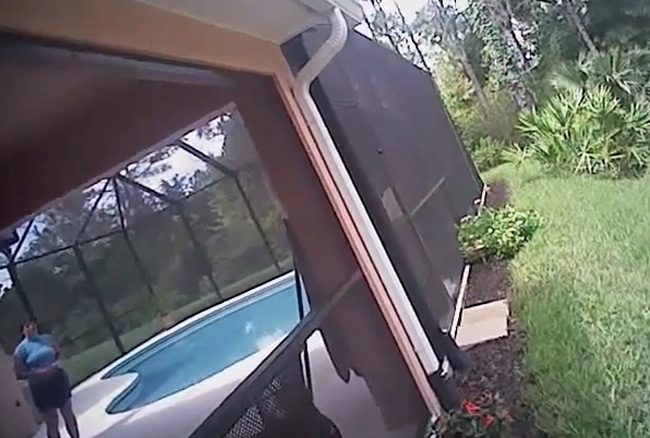 Stacy Culotta is the 37-year-old Palm Coast resident who 13 months ago had attempted suicide-by-cop as she pointed a gun at three Flagler County Sheriff's deputies in her yard at 8 Pine Brook Drive. The stand-off ended without a shot fired thanks to the negotiating skills of a veteran sergeant at the scene, who eventually immobilized her with a Taser dart. The weapon she was holding turned out to be a BB gun.
It had been one of several suicide attempts. Monday evening, a day after being released from a psychiatric facility after yet another suicide attempt, Culotta killed herself at her home as her family was trick or treating in the neighborhood. She got a .38-caliber gun from her mother's bedroom and shot herself. Her parents and her 9-year-old son heard the gunshot as they were rounding a corner in the neighborhood, and initially thought it was fireworks, according to a sheriff's report.
Deputies were dispatched to the P-Section house just after 8 p.m. Monday. They found Culotta in the bathroom, critically wounded in the head but at that point still breathing. Paramedics brought her into the hallway where they rendered aid, with a Florida Hospital Flagler physician patched in by radio, but the efforts were not successful. The doctor pronounced Culotta dead at 8:27 p.m.
Earlier that evening Culotta's parents had taken her son to a trick or treating event, had come home before going on to a neighbor's house and asked Culotta if she wanted to go along, but she declined. When her 65-year-old father came home, he called out in the house and did not hear her respond. He searched the house and finally found her in the bathroom, where he also noticed the gun—a Sig-Sauer WG—by his daughter's right side. He picked it up and unloaded two rounds into the sink then called 911, the report states.
He would later tell authorities that his daughter "has had numerous suicide attempts in the past, the most recent being approximately three weeks ago where Stacy allegedly took 30 pills," the report states. She was kept at a Stewart-Marchman Behavioral Healthcare facility from Oct. 21 to Oct. 30. She'd been released Sunday.
Deputies had been called to the Pine Brook Drive house that afternoon, and took a report from Culotta's mother, of an alleged larceny. Culotta herself had not been staying at the house before her treatment at Stewart-Marchman, but rather at a residence at 3345 Old Kings Road South. She told deputies that while she was at the health care facility her belongings had been removed from the Old Kings Road residence and placed outside the door at her parents' house, with some 80 missing pills for a prescription she'd filled.
In September 2015, Culotta called 911 from her parents' house but wasn't clear about why, triggering a response by deputies to the P-Section house. They found Culotta sitting in the screened-in back porch, having a drink, and holding what to the cops was a firearm. Sgt. Michael van Buren, a 28-year veteran of the sheriff's office at the time, was among the responders, along with deputies James Crosby and Fiona Ebrill.  Van Buren, who has since retired from the department, calmly spoke to Culotta for 15 or 16 minutes before Culotta points the gun at the cops, causing van Buren to fire his Taser and ending the stand-off. The incident was captured on a body camera.
Culotta was arrested and charged with obstruction and aggravated assault. She pleaded no contest to the assault charge and was sentenced to 36 months' probation.
The incident drew national attention and highlighted what had been a series of such stand-offs where sheriff's deputies had been able to de-escalate a tense situation, without firing their guns but instead using nonlethal means. Van Buren was named last year's Deputy of the Year, soon before he announced his retirement.
"My heart goes out to her family, especially her child," van Buren said today. "They have been in my thoughts and prayers since I heard of the incident."
Culotta's suicide is the eighth recorded in the county since Aug. 11, an extremely high rate for Flagler County, compared to previous years.