Doyle's Automotive, 709 North State Street, Bunnell
(386) 445-9614
Paid Advertising | November 13, 2014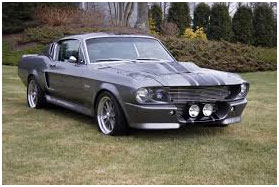 Open Monday – Friday 8:00 a.m. – 5:00 p.m.
Doyle's Automotive Offers Auto Repair Services You Can Count On!
Since 1994, Doyle's Automotive has provided motorists in the Bunnell, FL 32110 area with comprehensive auto repair services that include general services, car & truck care, undercar services, tires, engine & transmission, engine maintenance, transmission services, heating and cooling services, electrical services, electronic services, miscellaneous services and towing. Our goal is to offer the best services available at affordable prices to get you back on the road in no time.
You'll be hard-pressed to find the same level of expertise that our auto mechanic specialists provide! We have years of experience working on both domestic and import vehicles of all makes and models and can work with you to find cost-effective repair and maintenance alternatives.
For a high-performing vehicle, trust Doyle's Automotive with your car, truck, or van. To learn more about the services we offer, please contact us by phone at 386-445-9614 or send us an email. We also invite you to learn more about our dedication to you, our valued customer.
SERVICES OFFERED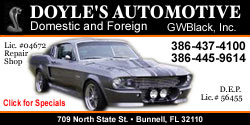 To keep your vehicle running properly at all times, we offer a number of services in the Bunnell, FL 32110 area that are carried out by our certified, expert auto service and repair technicians who have years of experience performing everything from oil changes to a complete engine overhaul. We use high-tech diagnostic equipment to guarantee your vehicle is repaired and/or serviced correctly the first time around, and we only use the highest quality replacement parts, filters, oils, and components when it comes to your car. Our services include: General Car & Truck Care, Undercar Services, Tires, Engine & Transmission, Engine Maintenance, Transmission Services, Heating and Cooling Services, Electrical Services, Electronic Services, Miscellaneous Services, Towing.
TIRES
Tires are the single most important safety feature on your car. They are the only thing that connects the car to the road, and life-saving technologies like antilock brakes and electronic stability control cannot do their job if the tires don't have a good grip on the pavement.
As the adage goes, nothing lasts forever. Car owners still need to replace their tires a few times or more throughout the life of a typical vehicle. Despite advances in longer-lasting tires, actual tread life will vary by car type, tire type (such as all season or high performance), driving aggressiveness, and even road and weather conditions. Proper maintenance and responsible driving can maximize the mileage in a set of tires. We offer these services to help you prolong the life of your tires.
We Offer Most Major Brands of Tires
At Doyle's Automotive, we understand that tires are an important part of your car. The quality of tires and material used on them highly affects the vehicle's performance. Their main purpose is to protect the wheel's rims and improve vehicle performance. For this reason, we only deal with brand name tires. Also, we offer fleet tire management services to ensure you are getting the best value, fuel economy, and life from your tires.
Once a need for new tires is determined, it is necessary to identify the best tires for your vehicle and driving demands. Look for tires that do well in tests for braking, handling, and resistance to hydroplaning. Winter traction should also be considered, if applicable. Let tread wear, ride comfort, noise, and rolling resistance be tiebreakers. Trust the tire experts at Doyle's Automotive to help you choose the right tires for your vehicle.
These are a few of our preferred brands.