From the Pew Forum on Religion and Public Life: "A new survey finds signs of public uneasiness with the mixing of religion and politics. The number of people who say there has been too much religious talk by political leaders stands at an all-time high since the Pew Research Center began asking the question more than a decade ago. And most Americans continue to say that churches and other houses of worship should keep out of politics.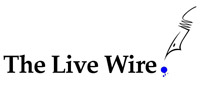 "Nearly four-in-ten Americans (38%) now say there has been too much expression of religious faith and prayer from political leaders, while 30% say there has been too little. In 2010, more said there was too little than too much religious expression from politicians (37% vs. 29%). The percentage saying there is too much expression of religious faith by politicians has increased across party lines, but this view remains far more widespread among Democrats than Republicans. Slightly more than half of the public (54%) says that churches should keep out of politics, compared with 40% who say religious institutions should express their views on social and political matters. This is the third consecutive poll conducted over the past four years in which more people have said churches and other houses of worship should keep out of politics than said they should express their views on social and political topics. By contrast, between 1996 and 2006 the balance of opinion on this question consistently tilted in the opposite direction." See the full summary here, and the full report here.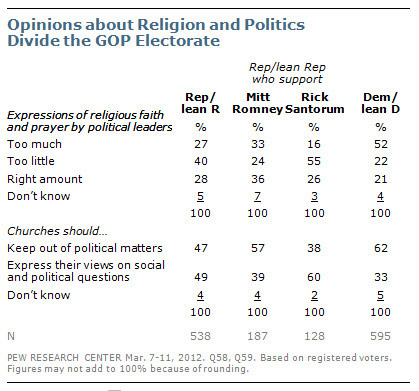 The report reminds us of a 2005 column by Arthur Schlesinger Jr., the late historian, a piece entitled "Forgetting Reinhold Niebuhr": "THE recent outburst of popular religiosity in the United States is a most dramatic and unforeseen development in American life. As Europe grows more secular, America grows more devout. George W. Bush is the most aggressively religious president Americans have ever had. American conservatives applaud his "faith-based" presidency, an office heretofore regarded as secular.
"The religious right has become a potent force in national politics. Evangelicals now outnumber mainline Protestants and crowd megachurches. Billy Graham attracts supplicants by the thousand in Sodom and Gomorrah, a k a New York City. The Supreme Court broods over the placement of the Ten Commandments. Evangelicals take over the Air Force Academy, a government institution maintained by taxpayers' dollars; the academy's former superintendent says it will be six years before religious tolerance is restored. Mel Gibson's movie "Passion of the Christ" draws nearly $400 million at the domestic box office. In the midst of this religious commotion, the name of the most influential American theologian of the 20th century rarely appears – Reinhold Niebuhr. It may be that most "people of faith" belong to the religious right, and Niebuhr was on secular issues a determined liberal. [...] He declared himself "in broad agreement with the relativist position in the matter of freedom, as upon every other social and political right or principle." In pointing to the dangers of what Justice Robert H. Jackson called "compulsory godliness," Niebuhr argued that "religion is so frequently a source of confusion in political life, and so frequently dangerous to democracy, precisely because it introduces absolutes into the realm of relative values." Religion, he warned, could be a source of error as well as wisdom and light. Its role should be to inculcate, not a sense of infallibility, but a sense of humility. Indeed, "the worst corruption is a corrupt religion."
See Also:

Please support FlaglerLive. Go to our Contributions/Donations Page.