Hank Williams Wins a Pulitzer
FlaglerLive | April 13, 2010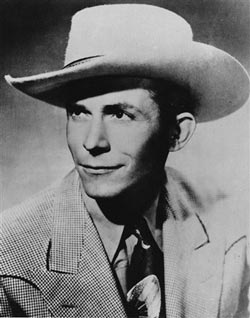 Hank Williams was 29 and was sleeping in the back of his car while his driver, Charles Carr, was taking him from Knoxville, Tenn., to a gig in Marion. Carr became alarmed: Williams wouldn't wake up. Or move. Williams was dead. His heart, from which he gave so much in so little time, gave out for the last time–hemorrhaged. They were in Oak Hill, W.Va. It was Jan. 1, 1953.
Today, April 13, 2010, the Pulitzer Prize Board, "after a confidential survey of experts in popular music" (according to the release), awarded Williams a posthumous Pulitzer for lifetime achievement as a musician. Bob Dylan, John Coltrane and Thelonius Monk were similarly honored previously.
"The citation, above all, recognizes the lasting impact of Williams as a creative force that influenced a wide range of other musicians and performers," said Sig Gissler, administrator of the Pulitzer Prizes. "At the same time, the award highlights the Board's desire to broaden its Music Prize and recognize the full range of musical excellence that might not have been considered in the past."
In the February 1953 issue of Nation's Business, Williams summed up country music this way:
You ask what makes our kind if music successful…. It can be explained in just one word: sincerity. When a hillbilly sings a crazy song, he feels crazy. When he sings, "I Laid My Mother Away," he sees her a-laying right there in the coffin.

He sings more sincere than most entertainers because the hillbilly was raised rougher than most entertainers. You got to know a lot about hard work. You got to have smelt a lot of mule manure before you can sing like a hillbilly. The people who have been raised something like the way the hillbilly has knows what he is singing about and appreciates it.

For what he is signing about is the hopes and prayers and dreams and experiences of what some call the "common people." I call them the "best people." … They're really the ones who make things tick, where ver they are in this country or in any country.

They're the ones who understand what we're singing about. … There ain't nothing strange about our popularity these days. It's just that there are more people who are like us than there are the educated, cultured kind.
T. Paige Dalporto, a poet, musician, composer and current resident of Oak Hill, W.Va., was unreserved: "I think Hank Williams' 'I'm so lonesome I could cry' is the best song ever written. There is more in that song that speaks to the human condition, he just seemed to have depth to his feelings and emotions that he could just mine the content of the human soul and reach that place of despair that we all feel and know but can't quite express except with crying and, you know–we can't verbalize it and immortalize it like he can."
Watch and hear Paige's tribute to Williams, recorded the morning of the Pulitzer award:

Please support FlaglerLive. Go to our Contributions/Donations Page.